Imprisoning Our Sisters : The New Federal Women's Prisons in Canada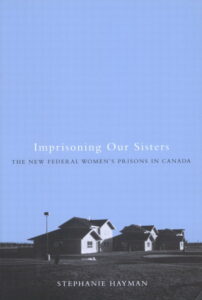 The federal prison for Women in Kingston, an isolated, unsafe penitentiary characterized as "unfit for bears, much less women," finally closed in 2000. Stephanie Hayman charts the development of the five new prisons that replaced it, including an Aboriginal healing lodge, placing her study within the context of Canadian colonial and political history.
Available upon request from Stride
Guest Pick from Stride's Kate Crozier:
Kate says:
This story of how Canada invested in rethinking the incarceration of women is a story that highlights both Canada's unique strengths and failings.  Diving into the details of the tension and collaboration that flowed between the agenda of the civil servants, volunteer, indigenous and francophone representatives in the Federal Task Force, I came away from this book proud of what can be accomplished when people passionate about social justice collaborate with one another.