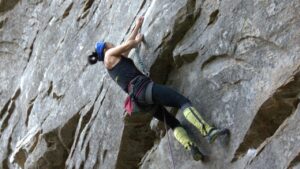 Alyssa* had been in and out of foster care and custody facilities since she was 12 years old. Her Dad wasn't around and she didn't get along with her mom. When she was 17, her mom moved to BC. Alyssa was on her own.
Alyssa's probation officer connected her with CJI's Back Home Program. Through Back Home, CJI volunteers spend time with youth during recreation nights in local custody facilities. Volunteers also support teens as they return to the community.
Stacey and Brooke got to know Alyssa over coffee. As trust grew, the CJI volunteers guided Alyssa through difficult relationships and made sure she went to probation appointments. Brooke took her to Grand River Rocks where she discovered a passion for rock climbing. The volunteers became like older sisters.
During the year she met with her volunteers, Alyssa's confidence grew. She decided to move to BC to live with her mom and step-father. Stacey drove Alyssa to the airport and they said a tearful goodbye. After moving to BC, Alyssa worked full-time and volunteered at a humane society. She stayed away from crime and her relationship with her mom improved dramatically.
*name changed